I am an entrepreneur, a public figure, a man with a lot of hustle and energy, aimed at supporting the business and people in Burgas and the region. My passions are information and communication technologies.
---
BIO
I was born on the 24th of February 1986. in the beautiful city of Burgas. Marketing Specialist and graduate expert on Online Reputation Management.
I am President of the "Information and Communication Technologies – Burgas" Cluster and I am Co-Chair of the Federation of ICT Clusters for the Digital Future of Bulgaria. Municipal Councilor of GERB, Member of the Standing Committee on International Cooperation, Operational Programs and Non-Government Organizations and of the Standing Committee on Culture and community activities. I am an official member of the Bulgarian Internet Society (ISOC), spokesperson and author of books, articles and publications on social networks. In 2011, in the official ranking of WebitExpo for the most influential individuals on the Internet, I ranked 9th out of a total of 267 people in Bulgaria and 96th out of 1748 people in the world.
---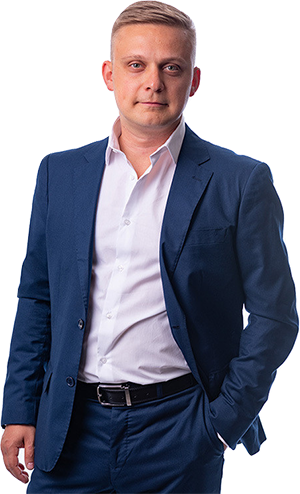 ENTREPRENEUR
I successfully develop my business and relationships with our customers.
I realize partnerships with companies and organizations from Bulgaria and Europe to promote the country and region as an excellent place for IT business.
---
PUBLIC FIGURE
I am the chairman and initiator of Cluster "Information and Communication Technologies – Bourgas", the organization that helps and develops the environment for the business sector in information and communication technologies in Burgas and Southeastern Bulgaria.
I am member of the Management Board of the Association of Business Clusters (ABC)
I am Co-Chair of the Federation of ICT Clusters for a Digital Future of Bulgaria. Together we strive to work with business, government and non-government organizations to add value to innovative technologies and entrepreneurship.
I started an initiative in support of entrepreneurs funded by the MLSP to find, motivate and train every initiative person that wants to create a business and to succeed.
I am a municipal councilor in Burgas and a member of two standing committees in the Municipal Council in Burgas. My door is open to anyone who has an idea and a proposal for development. When I believe in a good initiative, I do my best to bring it to a successful realization.
I work actively with the universities in Burgas so that young people and students can get the best knowledge and skills, and the business will accept staff who will work for its successful development.
---
MISSION
I dream of a city where young people are educated about modern technologies and processes, and have the best professional realization for their skills and knowledge.
I want to create a professional network of working professionals, students, students and companies who are interested in work and business in Burgas.
To make Burgas one of the main centers for development of information and communication technologies of national and international importance and scale.